About John Elliott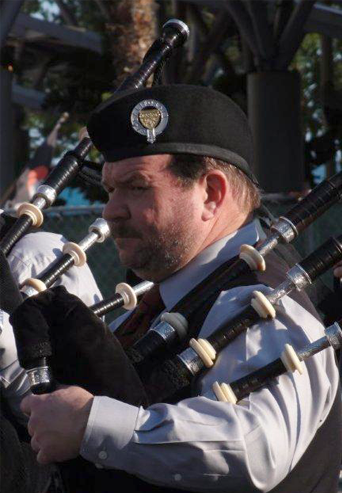 John began lessons at the age of eight. His first band was the Golden Mile Kiwanis Pipe Band under P/M Jock Campbell, a mainstay of Toronto piping in the sixties.
From humble beginnings John graduated up the ladder of competitive bands as well as solo competition. In 1971 John began playing with the 400 squadron Pipe Band under the leadership of P/M Hugh McWhinnie. John steadily moved up the solo ranks thanks to expertise tutelage by the legendary John Wilson.
In 1975 John Became P/S of the Toronto & District Pipe Band which was under the direction of P/M Ron Rollo. John moved to Scotland in 1976 to play with ten time world champions, Muirhead & Sons. Under the guidance of P/M Rob Hardie, John was to learn and experience the best of what the band world had to offer and within 2 years of his return, John became P/M of Toronto & District, North American Champions in 1991 & 1992. Following the 1992 season, Toronto & District merged with the Peel Regional Police Pipe Band continuing the standards of excellence already established. John remained as P/M until 1995 and then again from 1999 until 2008. Since 2009, John has been a member of the LA Scots Pipe Band.
Some of John's piping highlights both as a solo player and P/M opening twice for Rod Stewart, performing 3 times on stage with Sir Paul McCartney, performing at the world's most famous musical institution, Carnegie Hall for the 911 Benefit concerts in New York City, appearing on numerous occasions on Hockey Night in Canada, and performing with Canadian tenor John McDermott for a PBS television special.
In 1998 John started Sound Supreme Reeds. He started with basic reed making equipment but soon upgraded to precision reed making equipment. Both blades on Sound Supreme reeds have been profiled at the same time using a high speed rotary cutter resulting in precision cut blades. The blades are tied onto a brass seamless staple producing a very bright, rich balanced sound. Sound Supreme reeds will produce a superior harmonic sound and suited to most pipe chanters on the market.
In addition to reed making, John also teaches , conducts workshops and is an active piping judge, having adjudicated across North America.